Bradley Zakarin
Lecturer, The Cook Family Writing Program; Director of Academic Initiatives, Office of the Provost
BA, Amherst College; PhD, Harvard University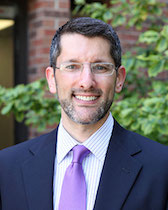 Rebecca Crown West, 1-124
Brad earned a B.A. in History (Amherst College) and a Ph.D. in History (Harvard University) before serving as Resident Dean of one of Harvard's undergraduate houses. At the same time, he was a lecturer in the History Department and Assistant Director of Undergraduate Studies.
Brad helped co-author Writing with Internet Sources, which became a staple of the universal composition course for first-year students. He also received multiple Gordon Gray Faculty Grants for Writing Pedagogy to develop projects ranging from a manual for senior thesis writers to an introductory guide for students in a core course in historical studies.
Upon moving to Northwestern University, Brad was Associate Director of Fellowships and a lecturer in the History Department. While continuing research into academic integrity, technology in education, and composition, Brad held a Hewlett Fund Grant for Curricular Innovation to produce a research guide for students preparing for honors research. Brad later became the inaugural Director of Residential Academic Initiatives, a new role focused on integrating undergraduate education, faculty engagement, and intellectual life into the residential experience. He taught in the Cook Family Writing Program for the first time in 2016-17.