Andrew Skwish
Lecturer, The Cook Family Writing Program
BS, SUNY Buffalo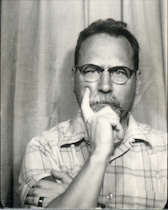 Andrew Skwish is a self-taught, self-employed freelance illustrator and designer whose clients have included Rolling Stone, Newsweek, Esquire, Eating Well, The Progressive, Harvard Business Review, Die Zeit, Fortean Times, The Village Voice, The New York Times, The Boston Globe, The Washington Post, and so many others. He has been working for over ten years doing posters for the Chicago theatre company Silk Road Rising.
He is an adjunct instructor in the Design Thinking and Communications program and teaches portfolio design in Segal as part of the certificate program. He has also taught visual design classes in Medill.
In the past he had actual day jobs at the San Francisco Examiner, Chicago Tribune, St. Petersburg Times, and Crain's Chicago Business. They involved page design, graphics, illustration, and photography.
He loves visualizing ideas and emotions. Give him a story, a brief or just a headline and he will come up with something, something that makes sense or even nonsense if that is what is needed. Just you, a pencil and a blank sheet of paper. That is what he wants to teach his students, anything and everything is possible.
Education
BS, Business Administration, State University of New York at Buffalo, Buffalo, NY
Back to top