Laura Pigozzi
Visiting Assistant Professor, The Cook Family Writing Program
BS, University of Illinois, Champaign-Urbana; MS and PhD, University of Minnesota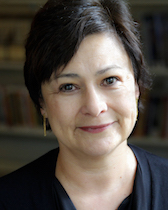 847-491-4560
555 Clark St., 238
Dr. Laura Pigozzi joins the faculty of the Cook Family Writing Program in the fall 2018 as a Visiting Assistant Professor. She teaches English 282 Writing and Speaking in Business and Design Thinking and Communication (in McCormick School of Engineering). She holds a PhD in Rhetoric and Scientific & Technical Communication with a doctoral minor in Bioethics and an MS in Scientific and Technical Communication with a graduate minor in Bioethics, both from the University of Minnesota. She is trained as a mechanical engineer, with a BS in Mechanical Engineering with a Bioengineering Option from the University of Illinois, Champaign-Urbana. Additionally, Dr. Pigozzi holds Affiliate Faculty status in the School of Nursing, University of Minnesota.
Her research interests include technical communication, cross-cultural communication, health communication, and issues of clinical and trial consent. Her research is a response to health disparities experienced by many of the 55.3 million Latinx in the U.S. Though much work has been done on patient consent generally and on healthcare communication, little is known about comprehension of health information within this population. Dr. Pigozzi has done research involving comprehension of existing healthcare materials created for this population as well as in-depth research on clinical trial consent. Her work incorporates rhetorical, quantitative, and qualitative analyses to build explanatory, interdisciplinary theories to contribute to this understudied area. This research also contributes to a practical goal of accessible, usable, and effective healthcare communication.
Publication highlights:
In Progress: Pigozzi, L. M. (tbd). Nuestra vida en el medio oeste, USA (Our life in the Midwest, USA): Listening to Mexican Immigrants. In N. Small & B. Longo (Eds.), Transnational research in technical communication: Realities and reflections. Albany, NY: Suny Press
Pigozzi, L. M. (2020) Caring for and understanding Latinx patients in health care settings. London, England: Jessica Kingsley Publishers, Ltd.
Pigozzi, L. (2018) Negotiating informed consent project: Bueno aconsejar, major remediar (It is good to give advice, but it is better to solve the problem). L. Meloncon & B. Scott (Eds.), Methodologies for the Rhetoric of Health & Medicine (pp 195-213).
Back to top