Megan E. Geigner
Associate Professor of Instruction, The Cook Family Writing Program
PhD, Northwestern University, Interdisciplinary Theatre and Drama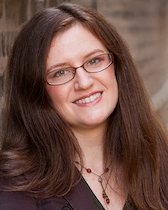 847-491-4969
555 Clark St., 202
Megan E. Geigner is a Chicago theatre historian, performance scholar, and writing specialist who teaches Weinberg first-year seminars, Writing and Speaking in Business, Design Thinking and Communication (DTC), and advanced composition courses. She holds a PhD in Theatre and Drama, and her scholarship and teaching focus on the way people perform their identity and citizenship in writing, in speech, in everyday life, and in more codified performance situations. She is especially interested in ideas of nationalism, immigration, and ethnicity, and how communication practices create a sense of belonging.
Her research explores the contributions of immigrants and migrants to the cultural landscape in Chicago. She is the co-editor of Makeshift Chicago Stages (Northwestern UP), and her chapter tells the history of ethnic theatre's influence on the early years of the Goodman theatre. She is also the co-editor of Theatre after Empire (Routledge); her chapter analyzes Irish playwright Brendan Behan. In 2022, she became the new co-author of Edwin Wilson and Alvin Goldfarb theatre textbooks, Theatre: The Lively Art (McGraw Hill) and Living Theatre (Norton).
She has chapters in other edited collections about the history of Italians and Columbus Day in Chicago, the history of Mary Aldis and the Little Theatre movement in Chicago, the history of Irish dance in Chicago (forthcoming), and the history of August Wilson plays at the Goodman Theatre (forthcoming). Her monograph (forthcoming) explores Irish, Polish, Black, Italian, and Mexican performances of cultural identity at and between the city's two world's fairs—the World's Columbian Exposition in 1893 and the Century of Progress in 1933. Her work has been published in Modern Drama, Theatre Journal, and Theatre History Studies, among others. She is also the author of "The 1919 Race Riots" Digital Classroom Collection for the Newberry Library.
When she is not writing, she coaches students on their interview performance and job market materials, teaches for the Northwestern Prison Education Program (NPEP), oversees the Cook Family Writing Program Postdoc program, advises the Freshman Musical, and serves in leadership for the Association for Theatre in Higher Education.
She is an active theatremaker. Prior to coming to Northwestern, Geigner directed the United States Naval Academy Masqueraders, and she has worked as a professional dramaturg for TimeLine Theatre (where she is an artistic associate), Court Theatre, University of Chicago's TAPS program, and Remy Bumppo.
Back to top