Meaghan Fritz
Assistant Professor of Instruction, The Cook Family Writing Program
PhD, Northwestern University, English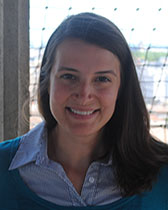 847-467-6162
555 Clark St., 238
Meaghan Fritz received her PhD in English in 2018 from Northwestern University, where she specialized in nineteenth-century American women's literature. She teaches College Seminars, First-Year Writing Seminars, Practical Rhetoric, and Writing and Speaking in Business in the Weinberg College of Arts and Sciences. 
Fritz's current research studies the academic and social benefits of alternative assessment practices in college writing classrooms. She implements ungrading, labor-based learning, individual learning plans, and reflection and self-assessment to center students as agents of their own learning in her courses. Fritz is studying the effectiveness of these methods, as well as their contributions to greater equity in writing curricula more broadly, in collaboration with her colleague in the Writing Program, Lisa Del Torto. 
Her teaching helps students cultivate a diverse array of communication and writing skills across genres and experiences. In her expository writing course, "Bon Appétit: Mastering the Art of Composition," she utilizes contemporary literary and journalistic works, such as Madhur Jaffrey's Climbing the Mango Trees and Jonathan Safran Foer's Eating Animals, alongside cookbooks, food blogs, and television shows to guide students to identify compelling arguments in others' prose as well as their own, and to imagine writing as a discussion among larger critical conversations and knowledge networks. In addition to asking students to read a variety of texts, she asks them to write across genres as well. Students compose their own food memoirs, debate the ethics of vegetarianism, and argue in defense of a research question throughout the quarter.
Fritz also dabbles in the Digital Humanities. Her First-Year Seminar, "Mapping America," moves into online platforms to survey works of American literary realism, a postbellum genre often critiqued for its narrow focus on local histories and geographies. By practicing critical thinking, reading, and research skills, students construct a digital map using the digital mapping tool, ArcGIS. Students also consider the relationship between their personal lives and place in a final StoryMap digital project.
In addition to teaching writing seminars, Fritz is interested in the collaborative work done between peers in university writing centers, having tutored in writing centers at all stages of her secondary education career. She is invested in writing center pedagogy and in thinking of writing centers as spaces for social justice and community outreach. She co-teaches Eng 304: Practical Rhetoric, the required writing course for all incoming tutors to the Writing Place, and she assists Barbara Shwom and Elizabeth Lenaghan in directing the Writing Place and the Graduate Writing Place at Northwestern.
Back to top