Lisa Del Torto
Associate Professor of Instruction, The Cook Family Writing Program
PhD and MA, University of Michigan, Linguistics; BA, New York University, Linguistics and Spanish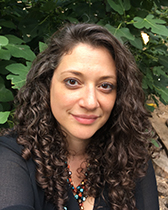 847-491-4967
555 Clark St., 204
Lisa Del Torto teaches Weinberg First-Year Seminars (Eng 105-6), Expository Writing (English 105-0), and Writing in Special Contexts (Eng 106), taught collaboratively with faculty from the McCormick School of Engineering as Design Thinking and Communication (DTC). In all of her courses, Del Torto uses ethnographic methods and theoretical frameworks from sociolinguistics to explore linguistic behavior and other sociocultural phenomena. Her current first-year seminars, Language Diversity & Linguistic Justice and Language & Everyday Experience provide students opportunities to explore languaging and language ideologies in a variety of everyday contexts and to acknowledge the relationships of language, identity, power, and privilege. Del Torto's English 105-0 section, Expository Writing for Multilingual Students, takes a Critical Language Awareness approach to consider and practice what is expected in US academic writing while we critically examine the ideologies and value systems underlying those expectations. As an instructor and curriculum developer for Foundations of American English and Academic Culture, Del Torto works as part of the English Language Programs team to provide NU's incoming international PhD students with linguistic, emotional, academic, and practical support as they adjust to life in the US.
Del Torto's research activities intersect with her teaching and service work and combine her interests in writing pedagogy and sociolinguistics. She is collaborating on research projects concerning linguistically minoritized student writers and antiracist and equitable writing assessment.These scholarly commitments contribute directly and in multiple ways to advancing social justice and access at Northwestern.
Del Torto has focused her service engagement on building and reinforcing relationships across the University. Service to WCAS and the University has included advising first-year students, mentoring new faculty, co-directing the Design Thinking and Communication program, and sitting on Weinberg's Curricular Review Committee. Additionally, she has designed and delivered workshops, lectures, and teaching and training materials to various units across Northwestern on topics such as equitable writing assessment, writing pedagogy, linguistic discrimination and justice, open educational resources, critical thinking, ethnographic methods, intercultural interaction, and cultural adjustment.
Back to top