Ignatius Aloysius
Lecturer, The Cook Family Writing Program
BA, Union Institute and University; MFA, Northwestern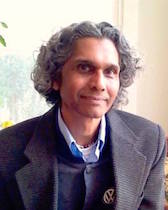 Ignatius Valentine Aloysius earned his MFA in Creative Writing from Northwestern University's School of Professional Studies in 2015, where he won the distinguished thesis award for fiction. He received his BA in Literature from Vermont College of Union Institute and University in 2009. Since graduating, Ignatius has taught courses in advanced writing and experimentation in the Integrated Design and Strategy (MS-IDS) graduate program at Northwestern University, as well as engineering communication in the Cook Family Writing Program at DTC. In addition, he has taught courses in fiction and advanced English composition at Harold Washington College, and also hybrid writing, fiction, and graduate advising in the Writing Program at The School of the Art Institute of Chicago (SAIC-MFAW).
His writing has appeared in several venues, including The Sunday Rumpus, Newcity, TriQuarterly, Third Coast Review, and The Extraordinary Project; and his metafictional novel
Fishhead. Republic of Want
is forthcoming from Tortoise Books. Ignatius is a literary citizen and co-organizer of Sunday Salon Chicago, a bi-monthly reading event series. He has read for
Poets Resist
and co-hosted
Writers Resist
during the Evanston Literary Festival; as well, he read during Banned Books Week at The Public House Theatre, an ACLU benefit. Ignatius is also a graphic designer, hard rock/metal lead guitarist, drummer, and songwriter. He has been awarded interdisciplinary art residencies at Ragdale Foundation in Lake Forest, Illinois, and now serves on the curatorial board at Ragdale. He carries purple pride and lives with his wife in Evanston.