Robert Gundlach
Professor, Department of Linguistics; Faculty Associate, The Cook Family Writing Program
PhD, Northwestern University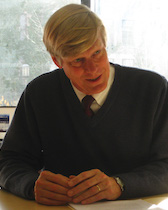 847-491-4968
555 Clark St., 245
Robert Gundlach served from 1977 until 2019 as founding director of the Cook Family Writing Program in the Weinberg College of Arts and Sciences at Northwestern University. Since 2019, he has been a faculty associate of the program. He is also a professor in the Department of Linguistics, where he served as department chair from 2004 until 2007. In the Cook Family Writing Program, he has taught introductory and advanced undergraduate courses in expository writing; several versions of a team-taught, two-course sequence designed to integrate writing instruction with instruction in other domains of the undergraduate curriculum; an advanced undergraduate seminar on writing and social change, offered in collaboration with the Center for Civic Engagement; a special non-credit writing course for graduate students in the Kellogg Graduate School of Management; and a graduate seminar on the teaching of writing. In the Department of Linguistics, he has taught first year seminars on language and childhood and on the human voice, spoken and written; advanced undergraduate courses on child language and on linguistics and English composition; a graduate seminar on written language and literacy; and an interdisciplinary, team-taught graduate seminar on language and aging. In recognition of his teaching, he was named Martin J. and Patricia Koldyke Outstanding Teaching Professor in the Weinberg College of Arts and Sciences for 1998-2000. He has also been named several times to Northwestern's Associated Student Government Faculty Honor Roll, most recently in 2018-19.
He has served in a number of additional roles at Northwestern, including chair of the Northwestern University Press faculty editorial board; co-chair of the University Strategic Plan working group on teaching, learning, and assessment; director of a consortium on language and writing instruction; adviser to an intensive ESL summer program for international graduate students; associate director of the university-wide Center for the Writing Arts; director of a summer institute on Thinking and Writing: Teaching Writing in the Secondary School; and faculty chair of the Communications Residential College. He has also served on many committees, including the University Task Force on the Undergraduate Academic Experience; the Faculty Advisory Committee for the Provost's Initiative in Support of Faculty Excellence; the Graduate Faculty Advisory Board for the School of Professional Studies; the University Committee on Athletics and Recreation; and standing advisory or steering committees for the Kaplan Institute for the Humanities, the Multi-Media Learning Center, the Center for Civic Engagement, the Office of Fellowships, and the Chicago Field Studies Program. He has also served on institution-wide search committees for the Vice President for Student Affairs, the Director of Athletics and Recreation, the Director of the Office of Fellowships, the Dean of the School of Professional Studies, the Dean of Undergraduate Admissions, and the Dean of the Weinberg College of Arts and Sciences.  
Since 2002, he has been Northwestern's Faculty Athletics Representative to the NCAA and the Big Ten Conference. In this role, he has served as chair of the Big Ten faculty representatives, co-chair of the Big Ten Joint Group, chair of the Big Ten Academics and Eligibility Subcommittee, and a member of the Big Ten Program and Budget Review Committee. He has also served on the NCAA Academics, Eligibility, and Compliance Cabinet; the Cabinet's subcommittee on initial eligibility; and two NCAA working groups on academic issues. From January 1 - April 13, 2008, he served as Northwestern's Interim Director of Athletics and Recreation.
Combining his interest in writing instruction and his interest in children's language development, he has long been engaged with questions related to how children learn to write and how people continue to develop writing ability through childhood, adolescence, and adulthood. He has worked with educators at all levels, and collaborated on a series of research projects on early literacy with Joan Brooks McLane and Gillian Dowley McNamee at the Erikson Institute for the Advanced Study of Child Development in Chicago. (For an overview of this work, see J. B. McLane and G. D. McNamee, Early Literacy, Harvard University Press, 1990.)  He has served as a consultant or advisory board member for numerous organizations, including the National Institute of Education, the National Assessment of Educational Progress, The College Board, the New York State Education Department, the Illinois State Board of Education, the Center for the Study of Writing at the University of California-Berkeley, the Center for English Learning and Achievement at the University of Wisconsin-Madison, and Rice University. He also has served on the editorial boards of Written Communication and Discourse Processes.
His essays include "Children as Writers: The Beginnings of Learning to Write," "On the Nature and Development of Children's Writing," "How Children Learn to Write," "The Social Foundations of Children's Early Writing Development" (with Joan B. McLane, Frances Stott, and Gillian Dowley McNamee),"When Adolescents Write" (with Bonnie E. Litowitz), "Writing and Reading in the Community" (with Marcia Farr and Jenny Cook-Gumperz), "Is There a Writing Crisis in the High School?" and "What It Means to Be Literate." More recent essays include "The Future of Writing Ability," in M. Nystrand and J. Duffy (Eds.), Towards a Rhetoric of Everyday Life: New Directions in Research on Writing, Text, and Discourse (University of Wisconsin Press, 2003); "Words and Lives: Language, Literacy, and Culture in Multilingual Chicago," an afterword for M. Farr (Ed.), Ethnolinguistic Chicago, Volume I (Erlbaum, 2004); and "Reflections on the Future of Writing Development," in R. Beard, et al. (Eds.), Handbook of Writing Development (Sage U.K., 2009).
He has also spoken to many groups on a variety of topics related to the learning and teaching of writing, with talks ranging from "The Possibilities of Writing: Understanding the Dimensions of Variation in the Development of Writing Ability," a lecture at the Martha L. King Center for Language and Literacy at Ohio State, to "The Significance of Writing: Two Views of Language, Technology, and the Future of Writing Ability," a keynote lecture at a meeting of the summer faculty at Northwestern's Center for Talent Development, and "The Interaction of Writing and Thinking: Helping Students Learn to Use Written Language as an Instrument of Thought," remarks offered at a summer institute for teachers of Advanced Placement courses.
Back to top